Howdy! Good morning. :D
I have figured out I better do a LOW buy, rather than a NO buy... because that's setting up myself for failure. :/
I got more stuff in the mail! I got the Dream Cream Body Cream and Dreamwash Shower Smoothie from Lush yesterday. I have heard good things about the cream for eczema sufferer. But then we have to remember different products works differently for every individuals. I did secretly hope that these will be magical products for me and will give me immediate amazing results.
Recap of my stat: I have moderate (to severe?) eczema. Mostly it's on my hands, I also have some on my legs and body. My hands gets dry very easily and super itchy. And there are lots of cuts from scratching. As of today (12/5/13), the blisters (they usually shows up at the beginning... like a warning sign) are gone... but hands still get itchy etc. That being said, you can continue to read about this review.
I got them around 1:30 and I opened them and put some cream on my hand. I would not call it cream. It's more lotion to me. Sort of thin. It also "sting" my skin. I wouldn't say burn, but I can definitely feel the cuts on my hands... and the sensation is tolerable. And it has a smell to it. (Be warned, I do not have the bestest smelling ability... mostly I can't smell anything, so don't trust me completely in this area.) I don't think it stinks... but it definitely has a smell from the ingredients. Between 1:30-ish and 4:30, I have to apply it like 4 times, because it's thin and I don't feel like it stays long enough (as it is thin). I didn't use it when I got home. My first impression is it is a "meh". I don't like feeling the stings on my skin. I don't like that it is thin. I also don't care of the definite smell.
What it says on the website
:
Our most gentle cream for troubled, sensitive skin
Our number one, best-selling product of all time, Dream Cream contains every ingredient nature makes for soothing sore skin. One of our proudest product achievements ever, we love this body lotion because it makes people happy. It transforms suffering bodies into states of peace with our calming blend of oat milk, lavender and chamomile to care for irritations, reduce redness, and banish blotches. Olive oil and cocoa butter are perfectly suited and incredibly effective for dry or chapped skin, and especially gentle for even the most sensitive types. Do your skin a favor, treat it right with Dream Cream.
Fresh Ingredients
= natural ingredients
= safe synthetics
Oat Milk (Avena sativa) , Rose Water (Rosa centifolia) , Organic Extra Virgin Olive Oil (Olea europaea) , Cocoa Butter (Theobroma cacao) , Glycerine ,
Stearic Acid , Triethanolamine ,
Tincture of Benzoin (Styrax benzoin) , Rose Absolute (Rosa centifolia) , Chamomile Blue Oil (Matricaria Chamomilla) , Tea Tree Oil (Melaleuca alternifolia) , Lavender Oil (Lavandula hybrida) ,
Cetearyl Alcohol ,
*Geraniol , *Limonene , *Linalool
, Fragrance , Methylparaben , Propylparaben
Then this morning I tried the
Dreamwash
. It's like a whipped concoction in a jar, meaning you can hold the jar upside down and the content stays (unlike the Dream Cream. Do NOT hold it upside down. LOL.). Again, it stings my skin. I can feel the cuts on my legs. I don't think it smells like the lotion does. My skin does not feel super extra soft after I patted dry. I only used it this morning, so I can't really tell much. But I can tell you that I do not enjoy the sting.
So all in all for this first impression. It's a "meh". I may try it again, since both tubs are quite big and aren't cheap. I can totally use the dreamwash as my hand soap if I don't want to use it as a shower "gel". So no biggie. Not sure about the lotion though. Will update again when and if I got any further/new review on these 2 duo.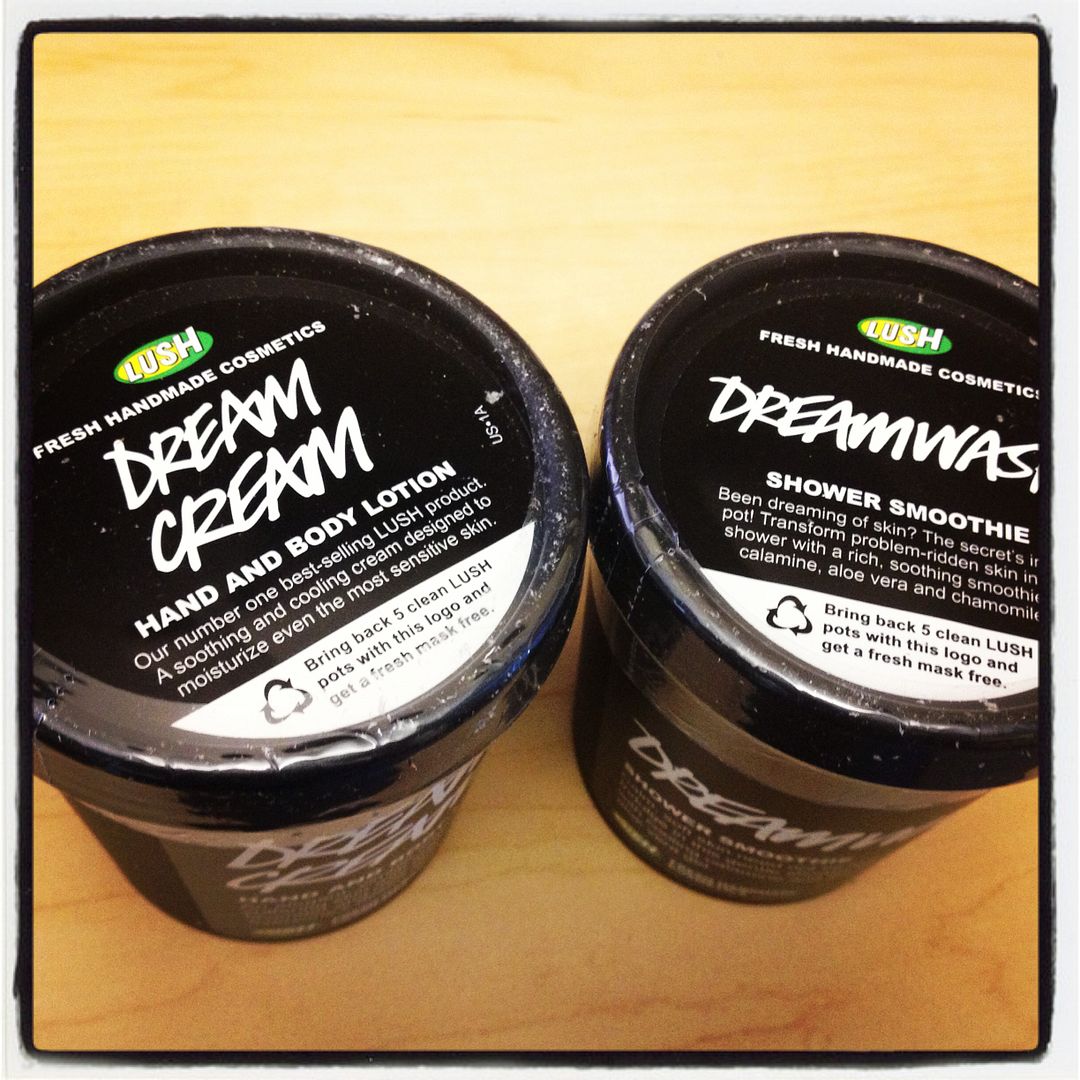 The huge tubs.
20131205
EDIT:
I have been continuing to use the Dream Cream after this post. The cream does not sting me any more and seems to work well with my routine. Though I do not enjoy the smell of it. I use it many times at night. Whenever I feel a little itch or dry, I reach for it. If it continues to prove that it work well for me, I will tolerate the smell and keep using it.
12/17/13