I am so glad it's the weekend. I had big plans... like reading, watching Catching Fire, laundry, taking Gigi to have her nails trimmed etc. Haha. I am proud to say a lot of them are being completed... more fun stuff to do tomorrow.
My skin is still healing. I haven't say it's "healed", have I? I even got rashes on my boobs. I did mention it's EVERYWHERE. And the shape of the rash is totally the shape of my bra. So... I am going braless. Being a girl is quite troublesome. So I am still using Metaderm and then I sealed it with a mixture of Booda Butter and Egyptian Magic.
I ordered a day planner on Friday. I used to have a small day planner and use that everyday. I used stickers and color pens to make it pretty. I recorded any and everything I think is important, so I am doing that again. I still use my Google calendar and notes on my phone. It will also serve as my journal, so it is very multi-purpose. I have big plans for it.
My latest discovery is
itisthehappypage
on Facebook. It's totally go with my LOA life. And last week (maybe Thur or Fri) I made a submission. "Happiness is being owned by a dachshund." and guess what? It got drawn. Yyyyyeeeeeeeeeeeeaaaaaaaaaaaaaahhhhhhhhhhhhhh! It's so awesome. I love it. I am very honored/blessed/lucky/proud to be owned by my Gigi girl. :D Speaking of her, she had her nails trimmed and bum squeezed. Now when she walked on the floor, it's so quiet. :)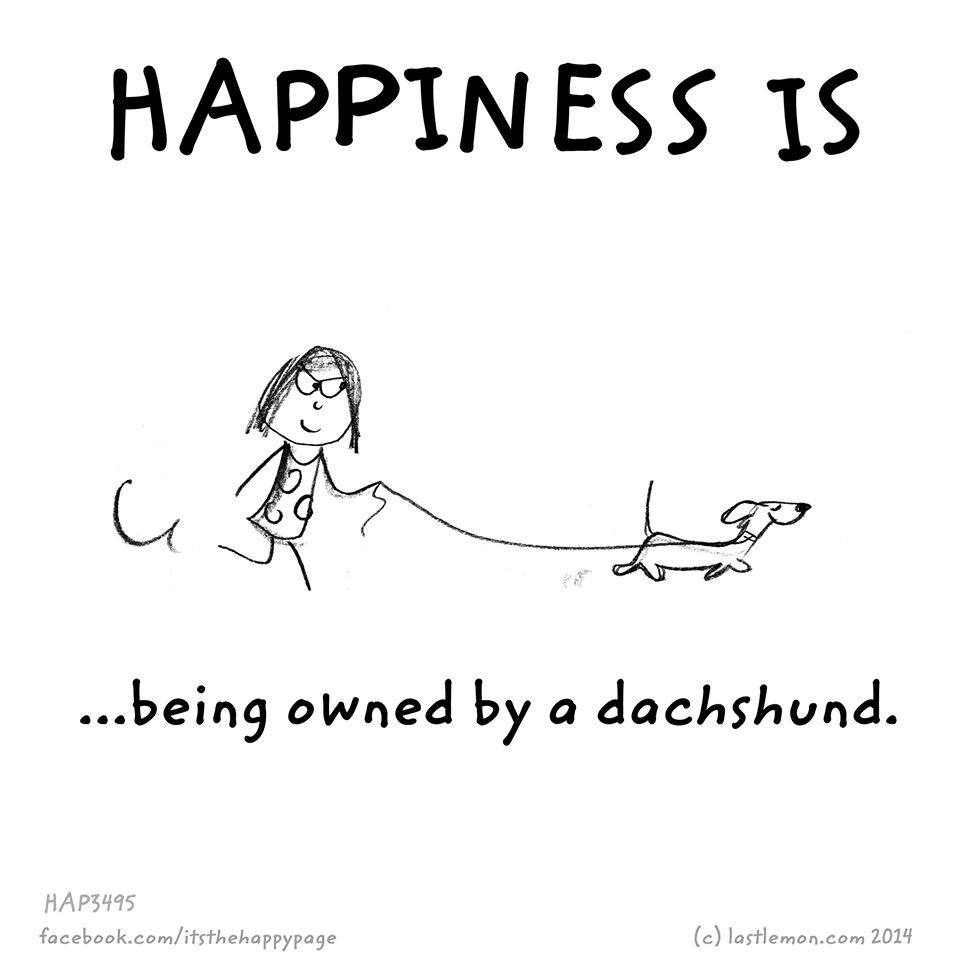 Here it is. Isn't it cute? I wanna make it into cute things. :D
I did watched Catching Fire, it is quite good. I enjoyed it. I somehow want to read the book again, but then I am not sure, since it is not a happy book, even though it is a good series. Vampire Academy is very good as well. I am done with book 2 and is temporarily reading something else. I love to read!!! Yay for Kindle.
I had another anxiety attack last night. I figured (sort of) I get them when I get overwhelmed and stressed. Gigi was being amazing by staying by my side and being my rock. The trigger does not have to be something super important. This time it was Instagram! So I have been trimming the people I am following.
Ok, I think that's it for now. I am going to take a bath. I think I should get some oat for my bath. I totally forget today when I was at Fred Meyer. Didn't haul anything fun thing there today. Maybe I will tomorrow just as a little "gold star" day. :D
Oh and I also filed my taxes, fed my car, made dinner. Yay.