So last week we went to the doc to check a lump Gigi has on her thigh. Doc think it was the "side effect" of her rabies shot, that spot was where they injected. While we were there, doc found out Gigi has a heart murmur. :( Things you don't really need.
Thursday I got a voicemail that there was an opening for her to see the cardiologist on Friday to perform a ECG (echo cardiogram). I was thinking whether we can do it... timewise and all that. Turned out my boss will not be coming in (so I can have Gigi with me in the office and go to the vet from work, which is much closer to have to go home pick her up etc... This all saves time) on Friday and I did have some emergency fund available (can't use my credit card any more). So it was like a sign that I should take the chance. So I did.
Took Gigi with me, and really she has been a little angel. Well, as angelic as Gigi can be. I found a big cardboard box to block the gap from my cubicle to the outside office. And my boss is not here, so she can't complain. And Gigi was mostly very good... sitting and/or napping on my laps. There are times she wants to sniff and say hi to people, which we did a bit as well. She also peed and pooped outside (yaaaaaaaaaaaaaaaay). I am very happy with my well behaved girl.
Dropped her off to the vet at 3 (I was a few minutes late) and then I went to U Village to kill time. There were a few things I am interested in getting, but for many reasons they are not available. I did go to Molly Moon and had some ice cream. Their ice cream is nice, but not like a big wow wow. UV is a very modern and hip place now. I was actually rather restless there, because I am worried about my baby. Finally got to pick her up at 6:30. She got a a mild case of a heart valve disease (doc referred as leaky) due to aging. Doc said it's common in aging small dogs. No med is needed. No lifestyle modification is needed. Will monitor it at her future comprehensive exam and will probably do another one next year to check the progress. What a relief. She really is my baby. Texted everyone about it. :D
Diagnosis: Mitral Valve Endocardiosis/regurgitation: mild
My office assistant. Isn't she cute? She got to visit some of my coworkers and some even came to visit her. )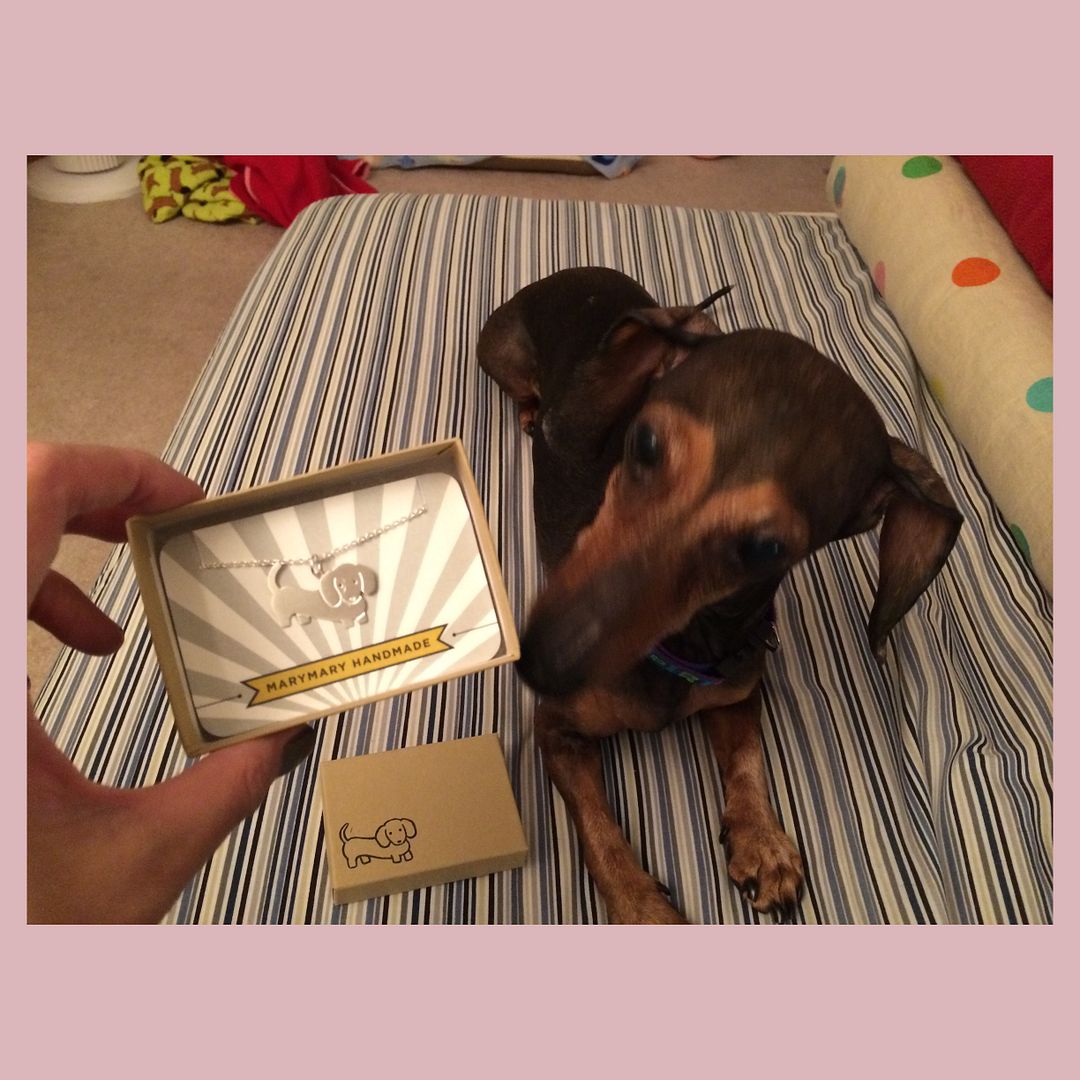 I got another new dachshund necklace again. :P This is from Marymaryhandmade from Etsy. I found out she was making doxie accidentally. LOL. I have like the other ones she made, so I am happy to add another one to my collectioin.