I had a bunch of ideas of topics I want to write, but since I didn't write them down, now I don't remember much. DUH. SMH.
SO I will do a show and tell post (again).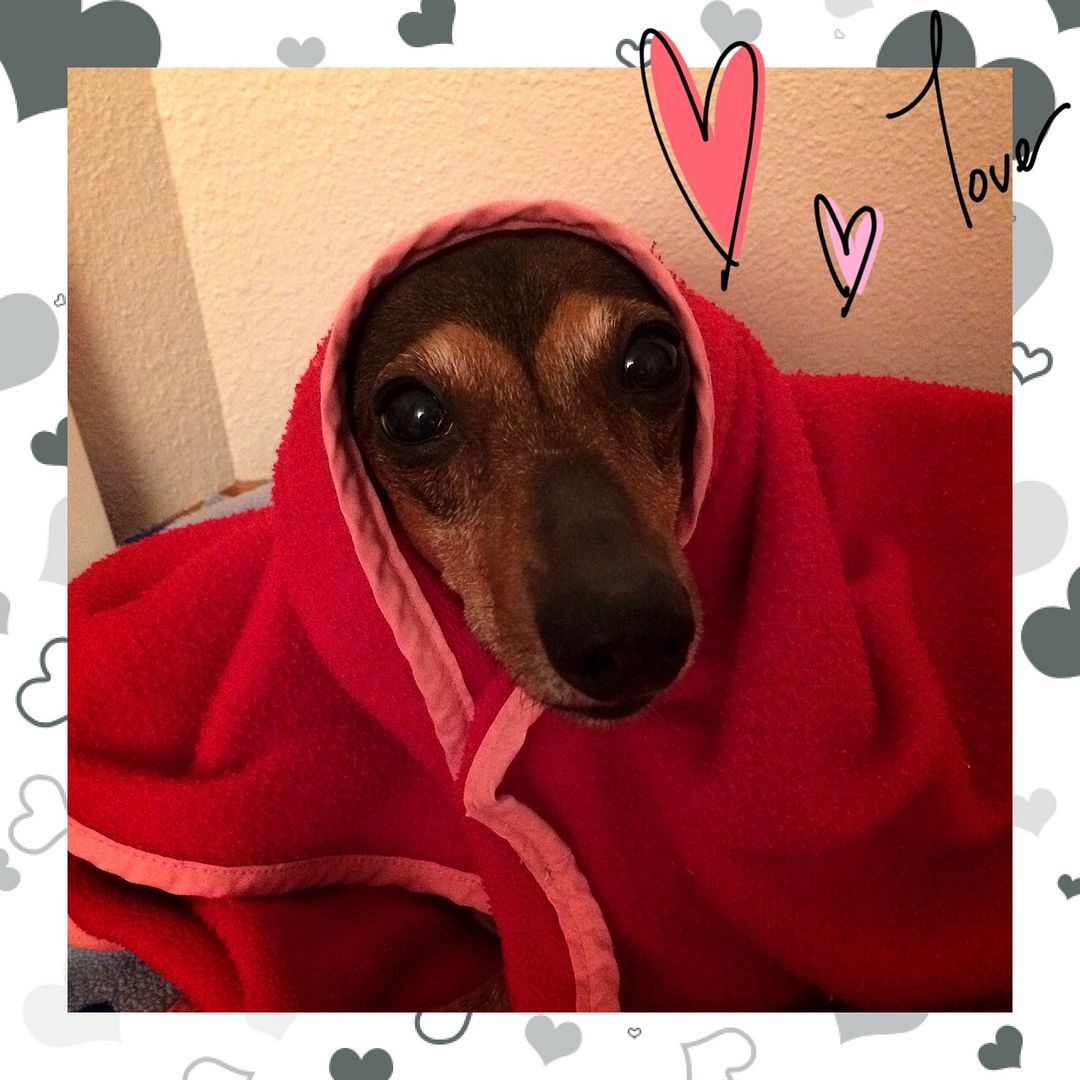 My Little Red Riding Hood.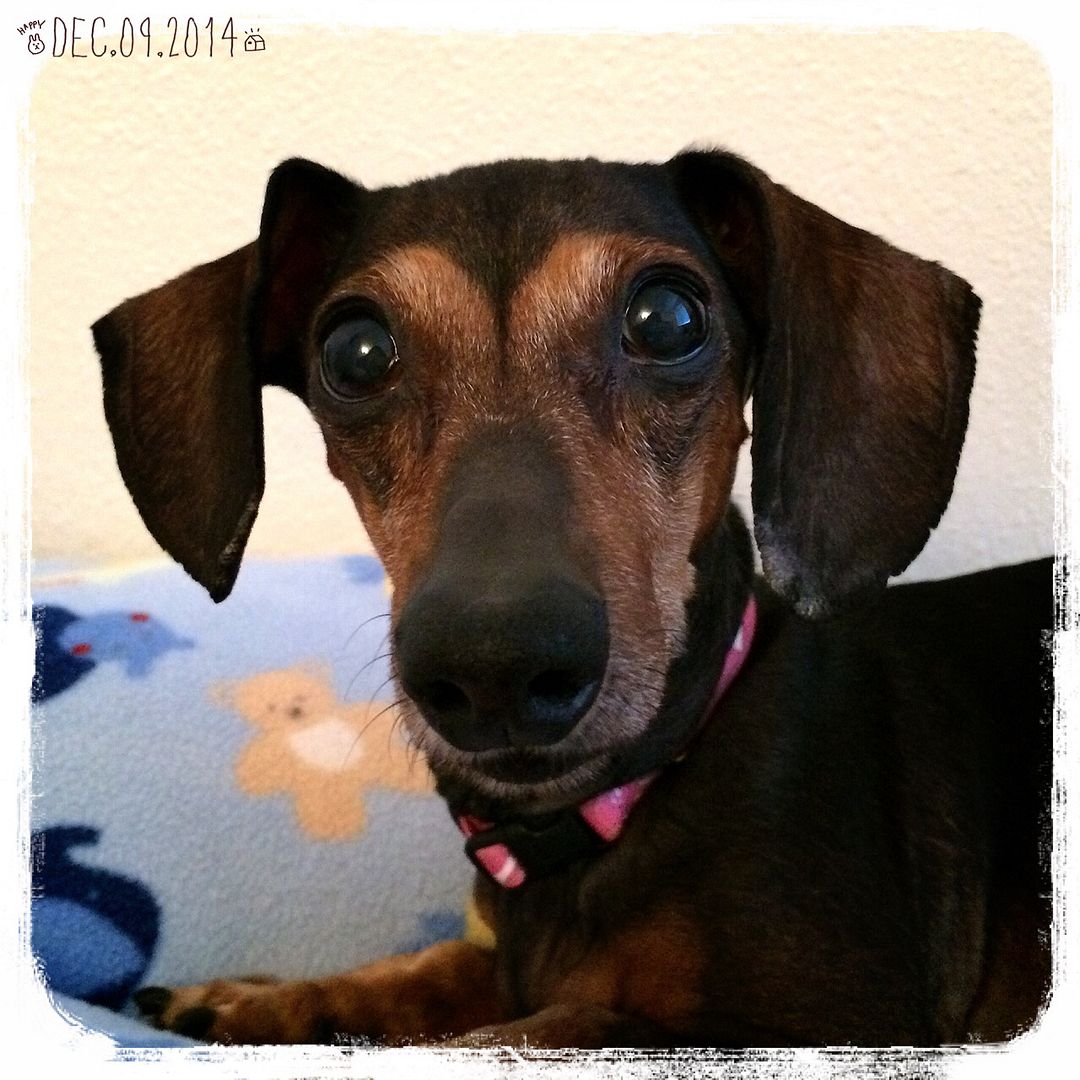 She is so cute in this pic.
Another cute one.
Gigi is doing really good. Healthy and cute. Sometimes I feel like she is not a dog, she doesn't do a lot of dog stuff. I mean, she does dog stuff, but she doesn't care about playing with other dogs, she doesn't do zoomies, she doesn't care about taking walks. But I still love her and that's the reason she is extra special and cute. And I am still working on adding a tiny bit of weight on her (like a pound or so).
Saturday I took Gigi to have her nails trimmed and bum squeezed. Also cleaned her ears. Went to All The Best and got her her Christmas goodie bag and bought a yummy Mexican Mocha Bread, it was delicious. Better than the Strawberry Nutella bread. The goodie bag was not as grand as last year's. But there is still a toy and a full size bag of treat and a few small stuff. And it's free. I don't remember what we did the rest of the day. Ha.
Sunday we went to Urban Craft Uprising. I only bought some tea and some almond brittle. I didn't drive. Moo did and parking was cray. But it was fun. We went to Facing East for dinner, it was good. I was really hungry that night and had a good appetite (so grateful that I am back to "normal").
Monday, one of my uncles is treating us (our family and some other friends) to lunch in China Town, and we had crab and a few other dishes. It was very good. Then we went to his house and we stayed for a long time (he collects everything), so the friends spent a lot of time looking through his collection. Then we went to the friends' house and played with the pug and had afternoon tea. Then for dinner we went to my other uncle's house and have hot pot. I managed to make my aunt spit her drink. It was funny. But she was mostly in a bad mood, thanks to a phone call from my aunt. The food was good. But I got sick around like 3 or 4 in the am. That was not fun.
Tuesday I was going to the airport, because my parents are leaving. But since because of lack of planning, everyone else were in the van, and I was the only one to drive to the airport in rush hour. If someone was smart enough to have one person in my car, I could use the carpool lane. So my dad called me and told me I don't have to go. The traffic was very bad (which is common). I was kind of sad.
I am ready for Christmas, I think. I just need to wrap some stuff (maybe tonight?). I already sent out a few Christmas card. I like/tend to do that in batches. I am going to watch lots of Friends during my Christmas break. Lots of QT. And other unplanned events. Ha.
I am also working on my "QT" and it seems to be ok. I am not the best Christian. :/
My hands are doing ok. I really like the Body Butter stick thingy from Rocky Mountain Soap. Need to buy more, because I am using it twice a day and it is going fast. I also like my other moisturizer, but this one is real good, so is MetaDerm Hyper Cream. I am also glad that the evil-e is only on my hands.
I am reading a new book "The Mercedes" by Stephen King and it was not bad. Not creepy much. I am over 80% done.
So end up I remember a lot of stuff. ;)