I am sharing my most used/favorite health/beauty products. :)
* All products in this post were purchased
with my own hard earned money, unless otherwise stated. All opinions, dry humor, sarcasm, bad English and skin issues are purely my own at the time of the posts and they are all subject to change without prior notice.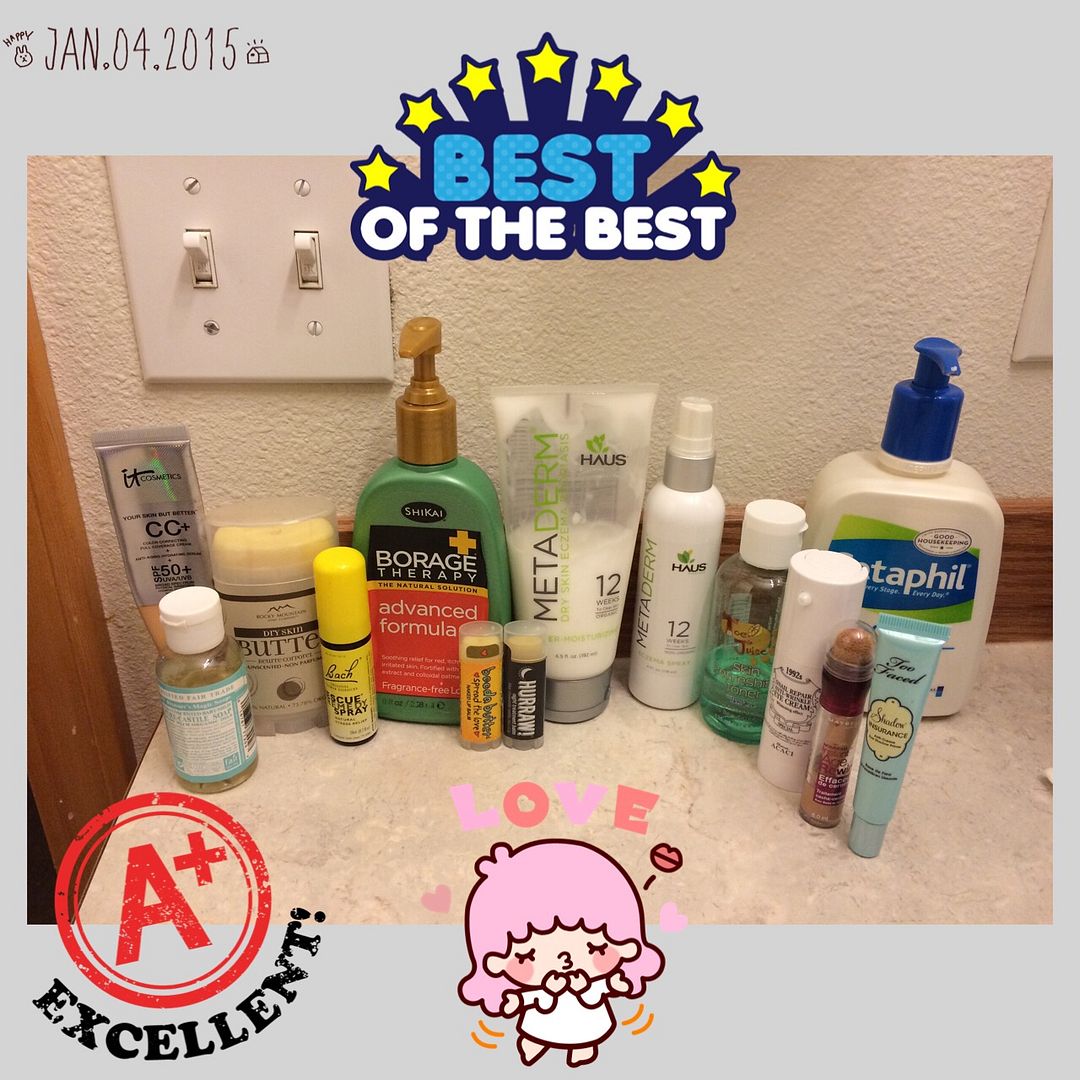 In no particular order:
It Cosmetic CC Cream
. I used this instead of regular foundation. I have 1 back up.
Rocky Mountain Unscented Body Butter
. I use this to seal in my moisturizer! Each tube lasts me about 2 weeks. I just bought 8 back ups a few weeks ago.
Dr Bronner Unscented liquid soap
. Bought a huge bottle, so I am still using it. Love using it to clean my brushes.
Rescue Remedy
. I feel like it works great if I start to feel anxious.
Borage Therapy Advanced Formula
. This was my initial love before I discovered MetaDerm. Still like it a lot. I have used up many many tubes and have back up ready.
Booda Butter lip balm
. I have many tubes around my living areas and have many backup ready.
Hurraw Moon Balm
. Same as above.
MetaDerm Hyper Moisture cream
. Love the texture of this. Used many bottles already.
MetaDerm Eczema spray
. Same as above.
Toe Juice
. I mixed it in water to soak my hands when they get really bad. Used many bottles and have lots of back up.
Snail Repair Anti-Wrinkle Eye Cream
. Got this from a meme box. I have a very deep line on my eyes, and this actually helped.
Maybelline Instant Age Rewind Concealer
. Easy to use and affordable.
To Faced Shadow Insurance
. Good stuff.
Cetaphil Cleanser
. Used many many bottles and will continue to use it.
These has been working great for me this year and I love them all. All products, except the eye cream and Shadow Insurance I am still on the first bottle and have no back up. All of them I have either used multiple item or have back up standing by.
None of the links are affiliate links.