Let my birthday celebration continues. I bought the Mr. S concert DVD earlier this month (or was this last month???) and thinking that would be my birthday present (it is), but I am getting so much more. LOL.
I had yesterday off. Woke up before 8 (thanks Gigi). After I did all I needed to do, I took her to have her nails trimmed (my birthday, and she got a pedicure. ha) and bum squeezed. Met a lot of the usual gang and we are all impressed with my Doctor Who Teefury tee (the one with all the Doctors and 10th was taking a selfie) and my necklace (with dachshund and footprints pendants).
Next stop was SPU. We picked the "perfect" time to arrive. It was right between class, so there were people everywhere! We were first greeted by a Communication faculty in the parking lot, Gigi was happy. We talked a bit, then headed back to my office, and she got greeted by a student (hallway was PACKED with people). She got to say hi to my office people. Then we visited a bunch of other people, it was great fun. I was exhausted. Haha. She was a bit tired too, I think. On the way from my office to another office, she was walking REALLY slow. She worries me sometimes.
We came home and I did some laundry and headed out again for dinner at Fort St. George, one of my favorite Japanese-western food. I had curry with pork katsu with spinach. After thatt I went to Kinokuniya to buy something for my parking. Got 3 comic books (still missing a Detective Conan) and a SMAP photo book. :D
Went to my aunt's house after that to sit for a bit and got the soap and lip balm my mom bought for me in HK. That place got lots of good feedback from users that the products helped with their skin. So I got something (and I will order some on my own too later after Chinese New Year). The lip balm smells very good and I tried it this morning (Sat) and it was very non-waxy. I wouldn't say oily, but only half a swipe and that's enough for the entire lips... very "watery"? I don't know. Anyway, my aunt gave me a card and red envelope.
Slept in until 9!!!!!!!!!!! this morning. ;) And I went to Sephora. Yikes. ;) And got more goodies.
Ok, I will do the show and tell.
Chinese New Year wiener. She is so cute and fancy.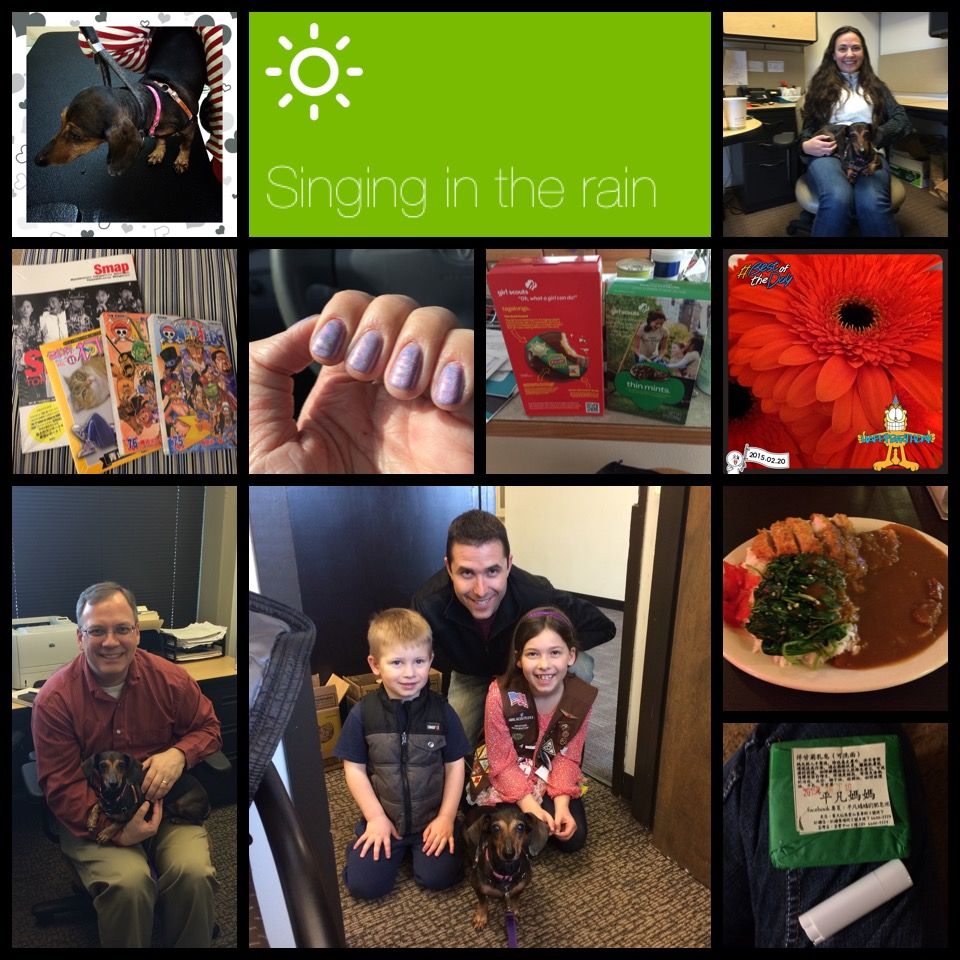 Summary of Friday. :D Gigi's nail trims. My books (more pressies for me), My nails! This is KBShimmer, it is one of her Spring collection polish. My roommate gave me orange flowers. Gigi with her fans. ;) My curry dinner and the soap and lip balm.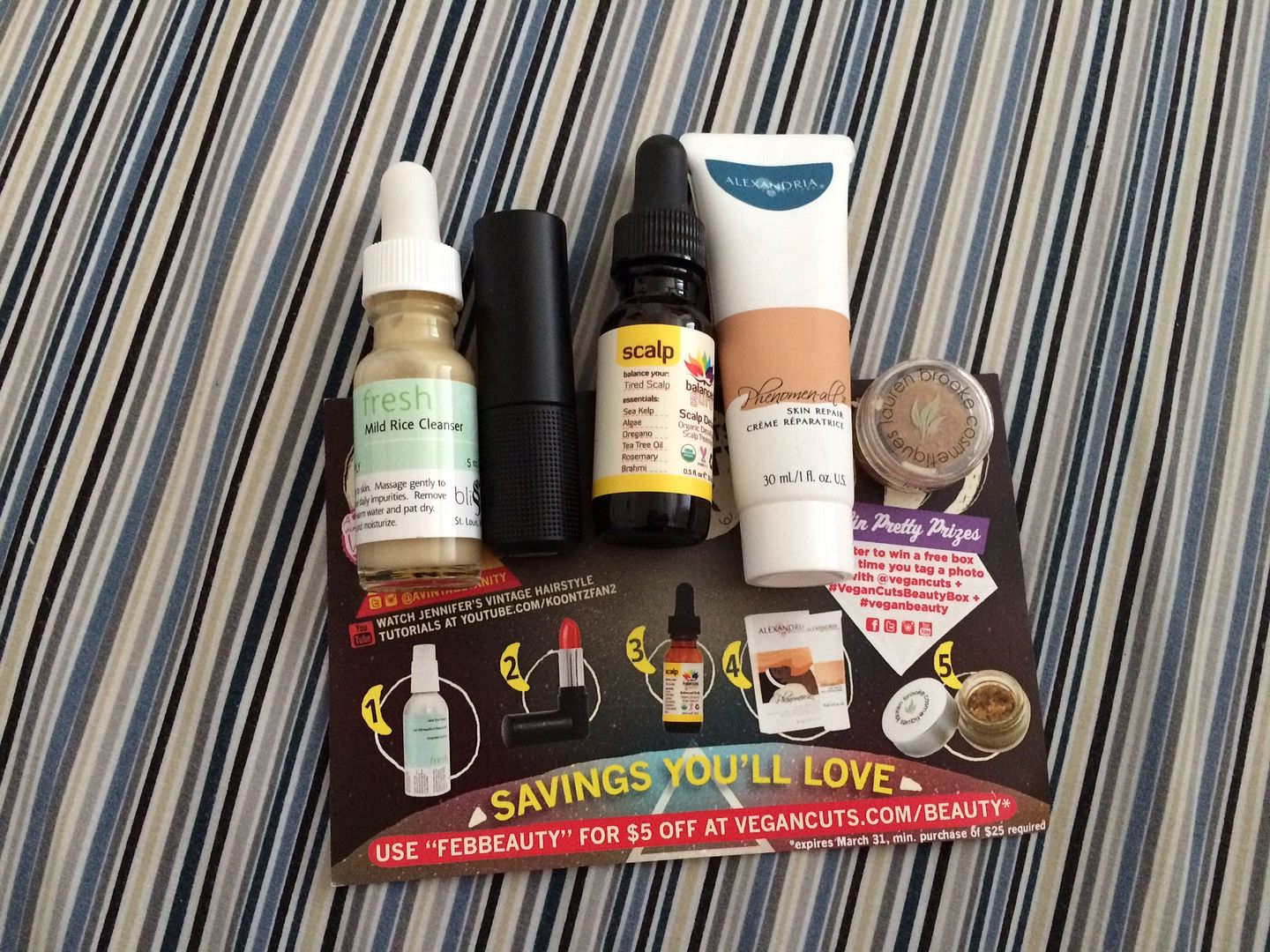 My coworker gave me her entire Vegancuts box content. There is a full size Red Apple lipstick in there!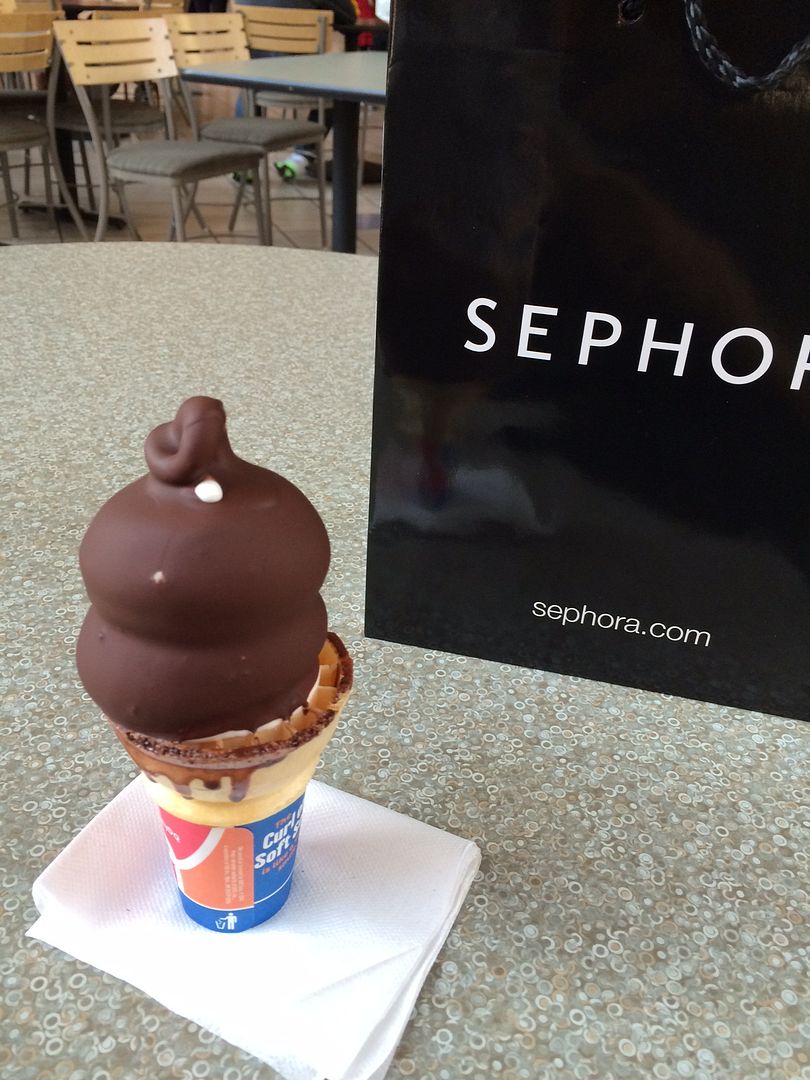 At the mall. :D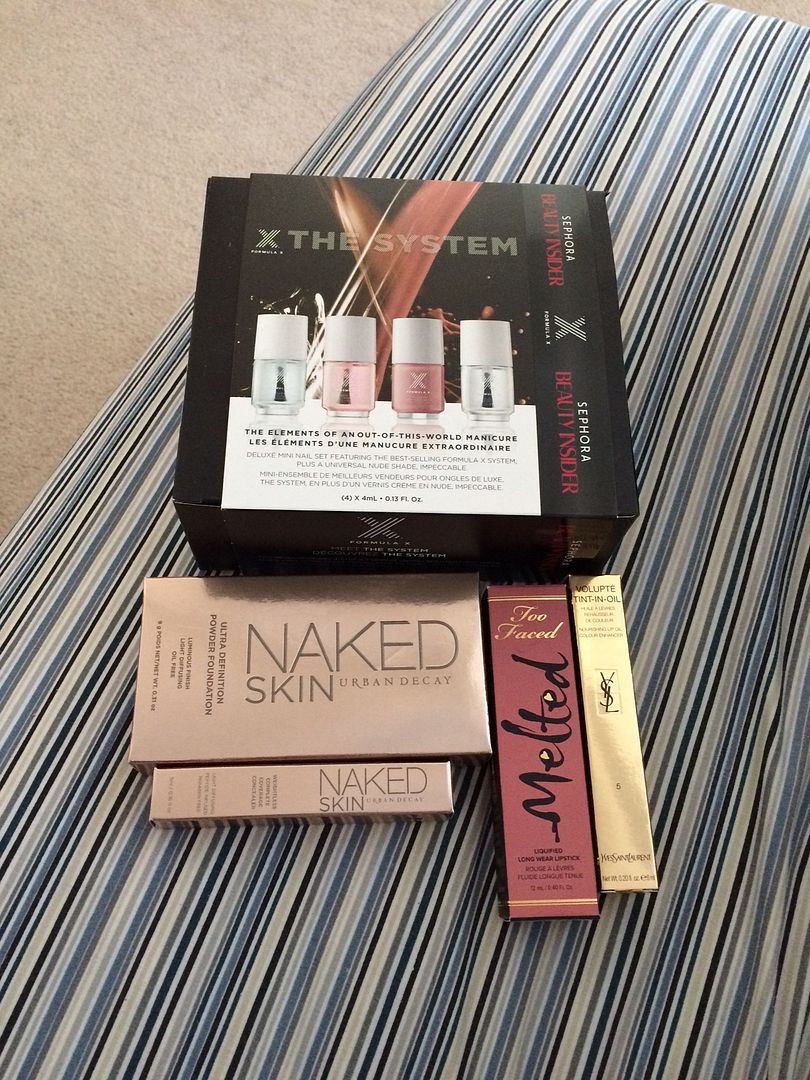 My damage. I got the Urban Decay Naked Skin Ultra Definition Powder Foundation. I read some good things about it. I can use it as a finishing powder or powder foundation. My face skin is getting slightly better. The shade is medium light warm. Also got the Naked Skin Weightless Complete Coverage Concealer in Medium Light Neutral. When I tried it on my hand, it is quite full coverage! Also got the Too Faced Melted Chihuahua. Tried it on the back of my hand and I like the color. I had the other color, but I don't really like it. And my final purchase was the YSL Volupte tint-in-oil. When I was playing with it, I thought I was not going to get any. Haha. I picked #5-Cherry My Chere. It looked very light and sheer on the back of my hand. I thought I would pick something brighter if they are all sheer. I am wearing at home now and it showed up quite clearly on my lips. It is quite nice and a surprise "pop of color". Not cheap but it's my birthday, what the heck. I like everything. The big box there is something I got using my points. It is the Formula X The System. You got the nail cleanser, base coat, nail color and top coat. I have not try anything from this line, so it would be interesting. Yay for birthday month! I have decided that March will be a low key month and hopefully from then on too. It will be good for me. :D
Then we went for a brief walk. It was soooooooooooo nice out. Gigi was walking in a more normal speed. It was great.
This was from this morning.
Below are some birthday wishes I have received from texts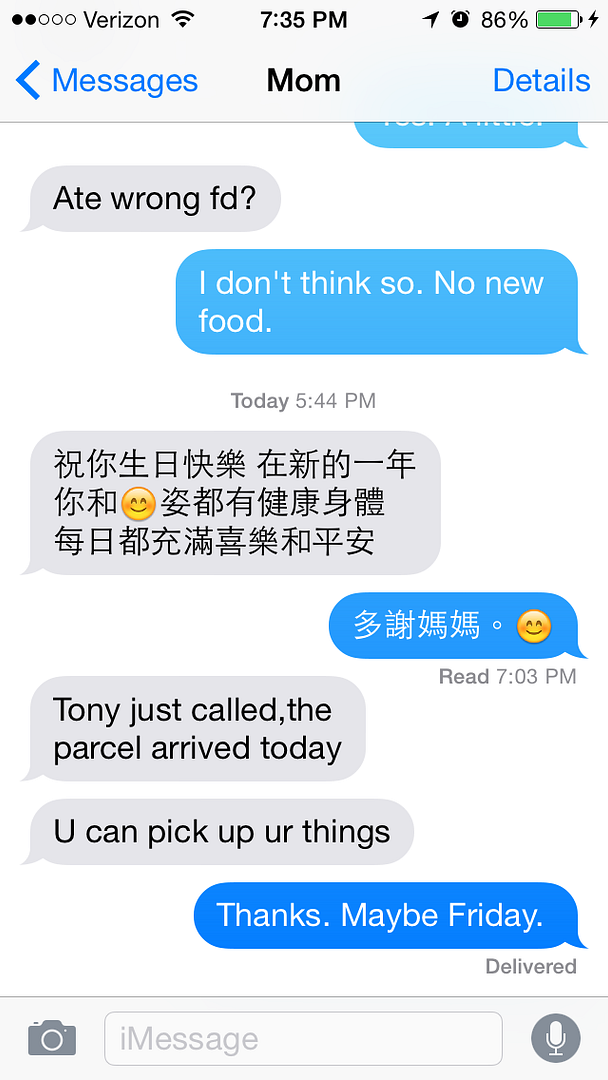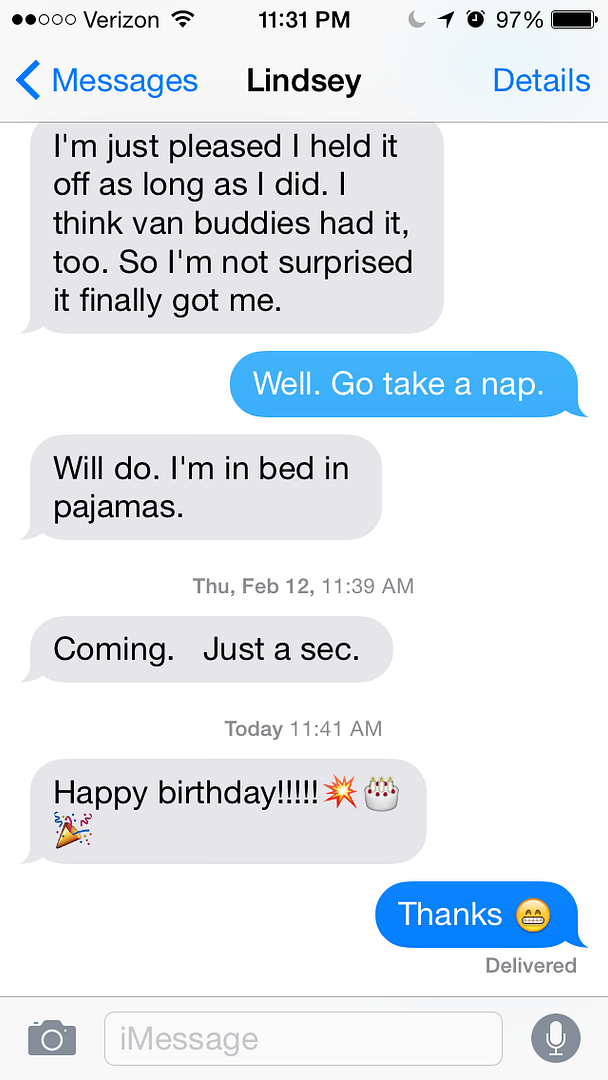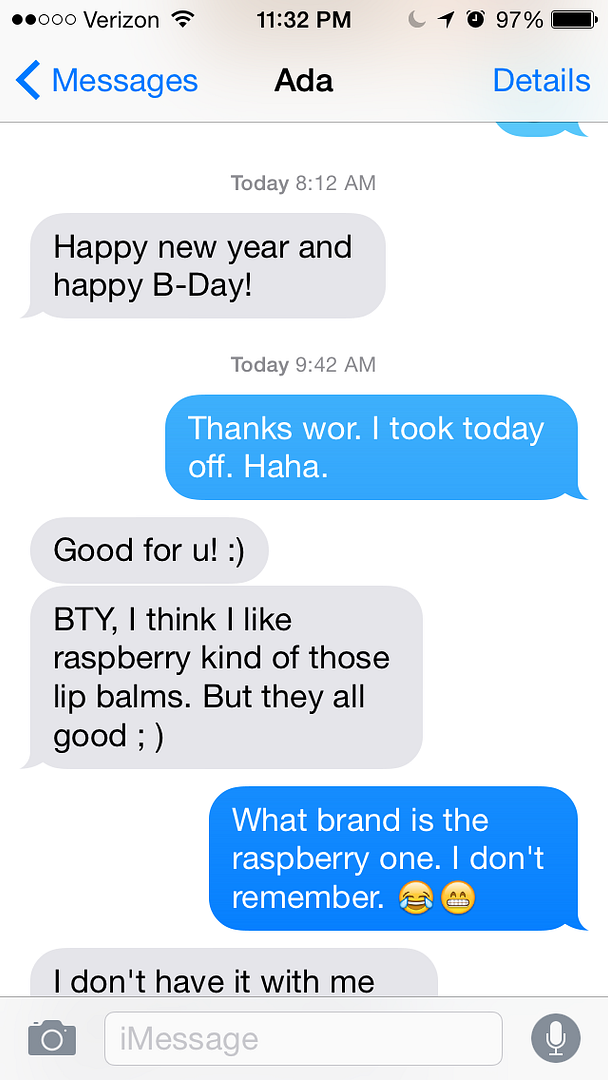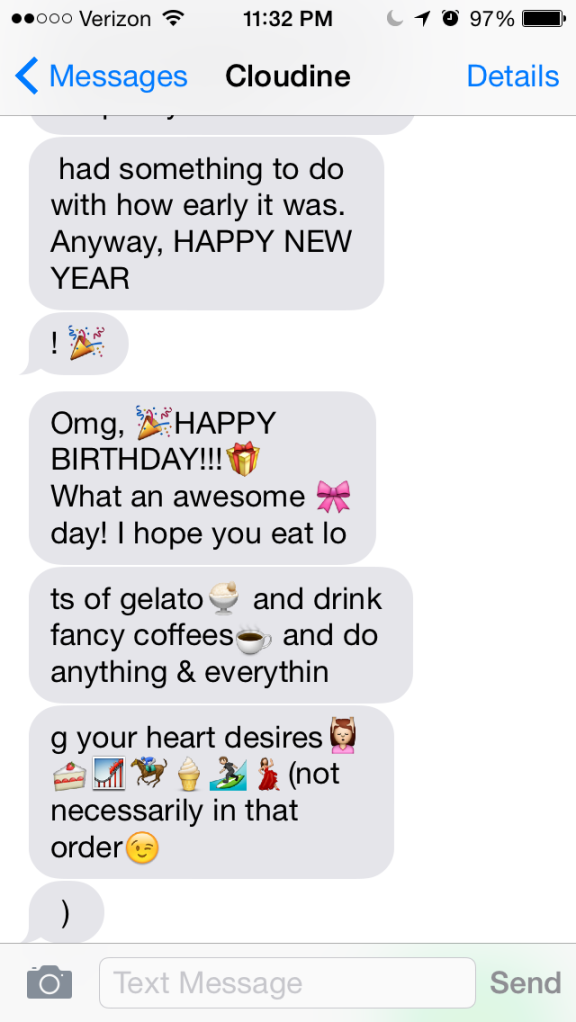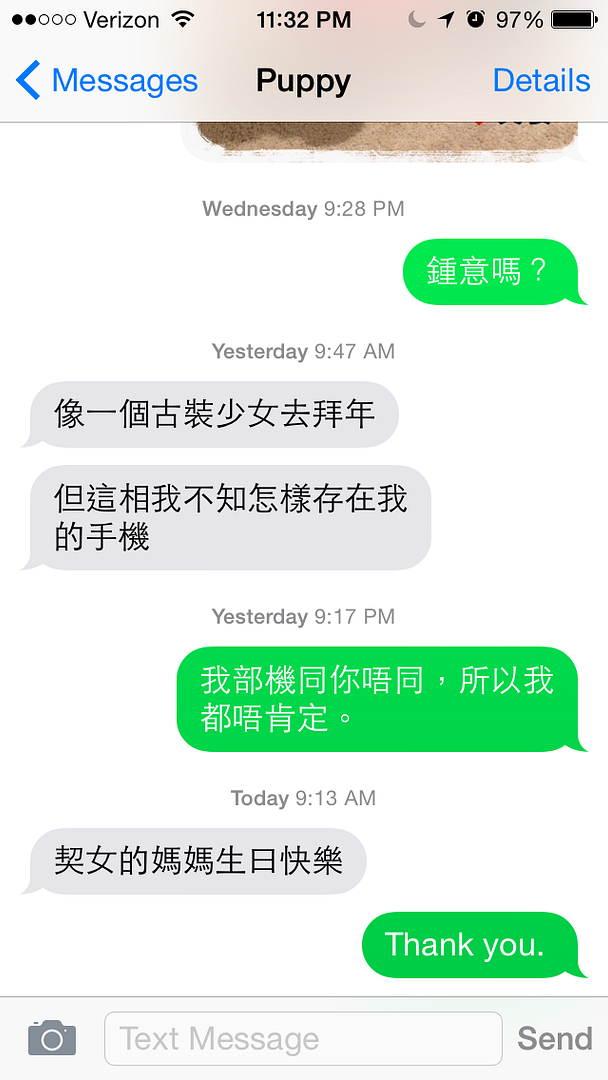 Some great positivity...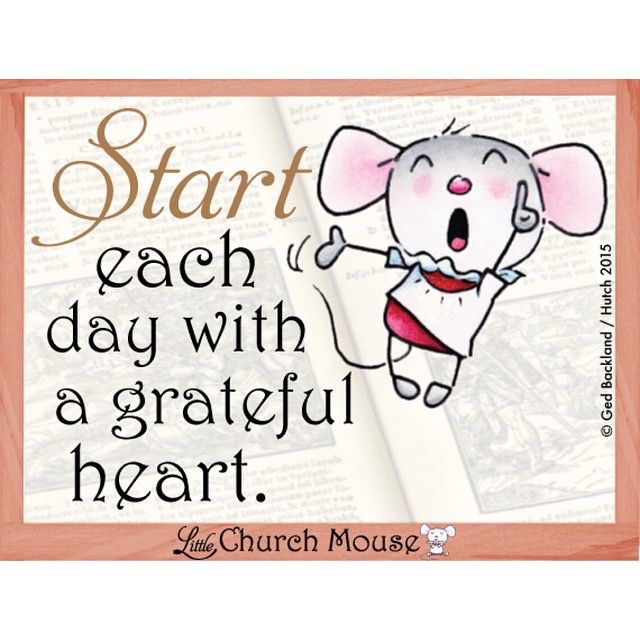 I am having a great weekend and will spread the positive energy forward.
God bless.