I thought it would be time to do a little update on my skin.
This year the eczema is on my face as well. It is not pleasant. It is not super itchy, but it is dry and flaky and slightly textured. I only has a few patches and they are not extremely bad. But I think I will need to step up my game and be consistent.
Game plan for face:
Wash only with Cetaphil or MetaDerm Wash.
Apply MetaDerm spray or Pavana Toner or both.
Moisturize only with oil and/or MetaDerm or Pavana cream.
Use MetaDerm spray mask at least every other day.
No makeup. Or very minimal coverup.
My majority problem is still on my hands and I also got spots all over my body. But they have been kinda stable. So I am ok with that.
Game plan for body:
Wash only with MetaDerm Wash. I have also just started using Eucerin Skin Calming Dry Skin Body Wash and seems to be ok with my skin.
Eczema Spray all over.
Moisturize with MetaDerm cream with emu oil.
Moisturize with Rocky Mountain Soap unscented Body Butter.
Thankfully my lips are doing great, but I still use lip balm everyday. :) And my scalp is also doing good.
So the goal is to use the simplest and bestest products to maintain and improve my skin. I also just bought a humidifier, so I will also add that to my aid.
So the products of my choice is:
I also have been taking 2 showers now. Remember water is not the enemy as long as you moisturize afterwards. Read
this
for additional info and the graphic I posted below (which apply even if you don't use bleach). I have also posted about
my experiences
with
bleach bath
. (Hmm... can't find my experience. But I have used bleach bath when my eczema was really bad and I think it helped.)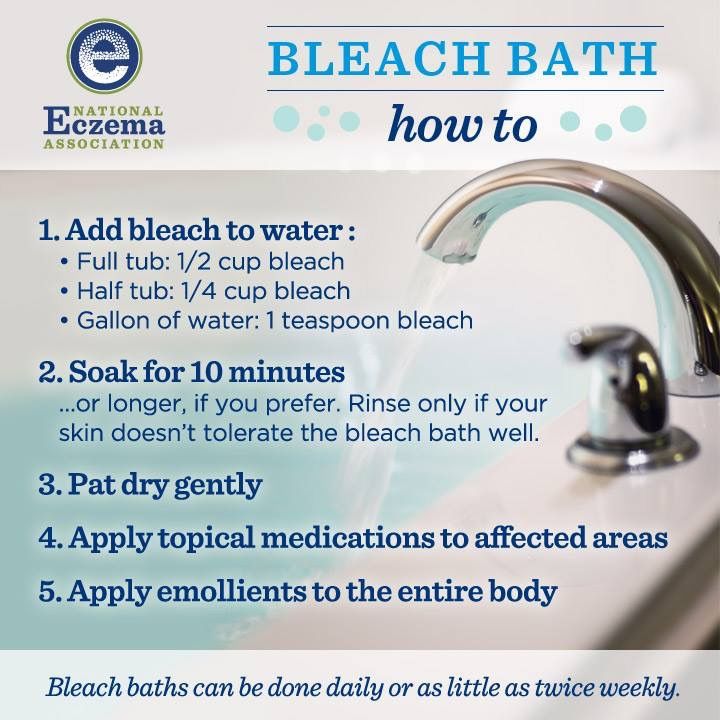 This is one of my lovely Hurraw lip balm. :)
And some of the skin stuff I am using.
Edit: So all these are typical help. I am also going to work from within. Meaning eating better food and from healing from my soul. I have already been starting to eat more whole food and organic. As for the spiritual side. I am working on staying on the positive side. I have been doing my version of Quiet Time for some time now. I have been slacking off, and it's time to get back into it again.
Here I am sharing a bit of affirmation from Louise Hay's "Heal Your Body":
Problem/Probable Cause/New Thought Pattern
Eczema/Breathtaking antagonism. Mental eruptions./Harmony and peace, love and joy surround me and indwell me. I am safe and secure.
Itching (Pruritus)/Desires that go against the grain. Unsatisfied. Remorse. Itching to get out or get away./I am at peace just where I am. I accept my good, knowing all my needs and desires will be
fulfilled.
Psoriasis See: Skin Problems/Fear of being hurt. Deadening the senses of the self. Refusing to accept responsibility for our own feelings. /I am alive to the joys of living. I deserve and accept the very best in life. I love and approve of myself.
Skin Problems See: Hives, Psoriasis, Rash /Anxiety, fear. Old, buried guck. I am being threatened.
/I lovingly protect myself with thoughts of joy and peace. The past is forgiven and forgotten. I am free in this moment.