You are shocked by this? No way! ;)
Sorry that all these pics are side ways... you can see them better on my IG. But these are the recent hauls. All are from Etsy. And please pretend you are look at them the right side.
This is from
LisaVCreations
. This is not from a fast shop (8/14-8/27). But I was initially looking for some clear rescheduled and canceled stickers. Why do people use solid one is beyond me. Don't you want to see what is canceled? Maybe not.And then I found their
dachshund sheet
was on sale ($2.5), so I snagged TWO. :D Bought some sampler sheets too. Quality is good. They even have a reward program.
This is from The EC Planner Kit Lady and xoMamaPlans (new to me). The ECPKL was purchased with my backup Gigi stickers, and they were shipped fast as always. No complain there. The new shop is a pleasant surprise too. It is fast and looks quite nice. But one thing I never understand is that this is a weekly set. Why are there only like 4 checkbox skinny sticker????
These I got on Monday or so (8/31/15). Top is from
One Orange Snow Flake
. Ordered on 8/12! I don't understand why it takes so long when it is a RTS shop??? Anyway. I already got the DW clip art, but it is nice to have someone cut it nicely until I can get my hands on a machine. I like what I have received... haven't use them yet though.
Bottom is Scribble Prints Co. This is their seasonal--Halloween and Fall/Thanksgiving and pink lemonade. They are cute. But I have figured I actually prefer matte paper, and these are not.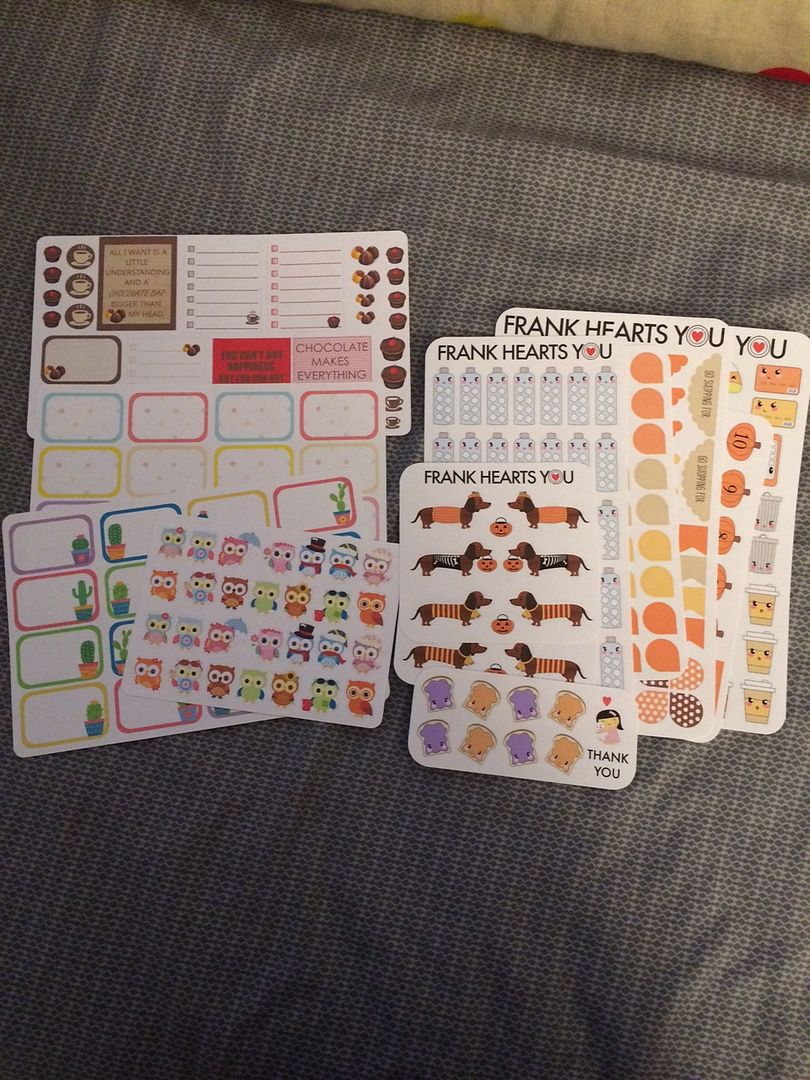 This is my favorite from yesterday. The right is one of my favorite shop --
Frank Hearts You
. I bought the October kit (I now have like 3 from different shops), the hydrate stickers (so happy they come in the smaller size). The Halloween dachsunds are a freebie for me!!!!!!!!!!!!! :D And so are the toasts. The owner knows I love dachshunds, so (I assumed) they made it for me, I don't see them in the shop yet. Sooooo happy about them.
The left one is from a new to me shop --
TheEmeraldBluebird
. I am into half boxes right now (so useful!), so I got 2 sheets and got the
guilty pleasure chocolate set
. So cute. The adorable owls are freebies.
Both are ordered on 8/28/15, received on 9/2!!!!!
Since I have been in the planner world for awhile now. Here are my favorite shops... in no particular order:
Planner Chick Designs
Frank Hearts You
The EC Planner Kit Lady
I also like Scribble Prints Co., but like I said I prefer matte paper better. The Emerald Bluebird is quite nice too, but I have only purchased once. The Alex Studio and Planner Kate are good too.
Finally get to have some selfies with Gigi. I have been running late lately and she loved to stay burrowed in her blankie for her morning nap. And this morning, she waited for me on my bed. :D
She was in "play mood" last night too. For all 10 seconds. She was "playing" with the dachshund toy, which is not supposed to be a toy for her (ha), so I stopped her and offered the squeaky to her instead, but I think she likes the dachshund better! Love her no matter.