Print till you drop? LOL.
So I have been enjoying my printer for printing my stickers... when I print my stickers using the photo setting, everything is amazing and pretty and extra more so when I print it on fancy paper. I love it. But my problem is with the ink. The ink cartridges last relatively reasonable. And I bought a set of back up when I first got my printer. It is
genuine Canon ink
and it costs over $70. Ouch. But the output is great. So I finally need to get more ink and I experiment with
cheaper option
. I have to replace the magenta compartment a week ago and
it is not the same
. The printer recognize it with no problem, which I am thankful for. But my stickers are more red. Just a smidge, but I can tell and I bet... mostly because I know what the "normal" color is with my stickers. So I am torn... do I want more affordable price and "sacrifice" my stickers? Hmm... I haven't been selling my stickers, so it's no big in that sense. I make stickers for my own fun. I like to design my original stickers and I also like to modify ones I got from other sticker shops. Mwahahaha.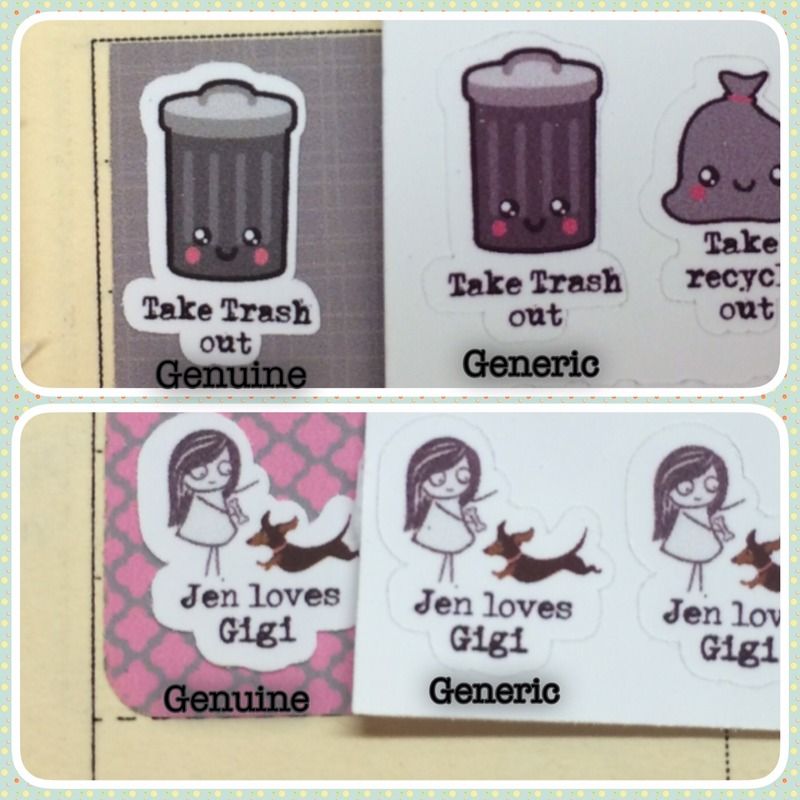 The trash cans is quite obvious that it is more red. The one below is less obvious. Magenta is the only color that is not Canon genuine, so that could be the only issue and I won't know until I use the other cartridges too.
Also the top sticker is my original and the bottom one is my modification. I switched out the dog with Gigi and I added the text. I find adding text to my own stickers and modification makes everything so much better. And that's my current favorite font. Ha. I also prefer smaller stickers too.
I am going to research a bit more on the ink thingy.
Overall life is good and I love it. Working, loving Gigi, making stickers, focus on being positive etc.
All is well.
**As of 8/6/16, the magenta color is not working. The printer can not recognize it. It was working fine, but it is not. I need to replaced the yellow one last night, it was not recognized as well. The blue one is still holding up. But I have already buy the real thing just in case. I don't think I can recommend it. It is not very reliable, even if I don't mind about the color variance.